October 10th saw the 7th edition of This is IT, the signature event for the Belgian IT world. The highlight and novelty of this edition was the presentation of the award for ICT & Digital Coach of the Year. The deserved winner of the maiden edition of this award for outstanding people management was Hans Haverbeke, head of data & analytics at Port of Antwerp.
"This is just wonderful and I owe my entire team a debt of gratitude for nominating me. They are the reason I get out of bed with a smile every morning", said the proud winner. For twelve months he will be the face of outstanding people management and excellent coaching skills within IT. "A role that fits him like a glove", according to initiator and jury president Christophe VanDriessche of Amon.
The jury praised the exceptional qualities of each of the five finalists. The jury found Hans Haverbeke the most convincing of the quintet, with just the right balance of all the qualities a good coach needs: communication skills with an eye for the career of the team members in combination with a clear vision and strategy. His special and clever way of putting together a team is yet another striking quality.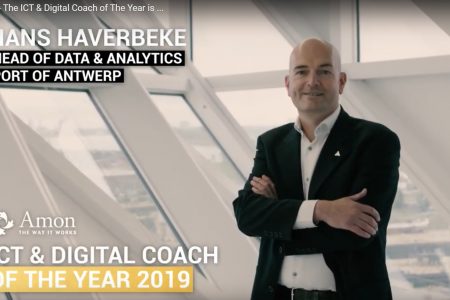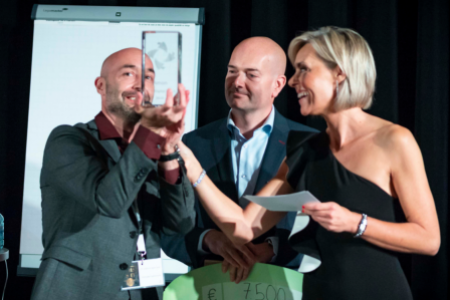 Widespread support for the new award
No fewer than 70 IT teams from all across Flanders nominated their coach for the prize. "More and more we're noticing that good leadership is the key to keeping IT talents on board", initiator Christophe VanDriessche explains.
"With this award we want to call attention to the importance of good coaching and talent development within teams and organisations. The fact that major players like Telenet, Carrefour, AE, Dela, UCB and KPMG were more than willing to be associated with the award says everything about the need of finding and retaining IT talent."
Haverbeke's team is thrilled to win the award and not just because it comes with a €7,500 team budget. Inge Lemmens, one of Hans' team members, puts it as follows: "His self-deprecating humour in combination with his people management skills and, naturally, his impressive expertise make Hans a wonderful manager."
They haven't decided yet what to do with the prize but they'll definitely be heading out with the entire team for some well-deserved R&R away from their familiar work environment. Amon wishes them a fantastic team building event!