On Thursday 10 October This is IT proudly announced the first winner of the new 'ICT & Digital Coach of the Year' award. For the next twelve months, Hans Haverbeke of Port of Antwerp will be the ambassador of coaching leadership in the IT world. Of course, the event in the Ghent Ghelamco Arena was much more than just an award ceremony. When asked for their impressions the attendees called the event 'inspiring', 'positive' and 'super interesting'.
On March 30, 2021, we hand out the second ICT & Digital Coach of the Year award. Save the date!
Relevant topic
"Tonight's subject matter is very topical right now in the IT industry. There's a genuine 'war on talent' raging out there and a coaching leadership style is one of the ways to come out on top", says entrant Benjamin Jacobs (managing director Sentia).
Christiaan De Backer (group IT director, Van Genechten Packaging) is also enthusiastic about the topic of This is IT: "In my opinion getting your staff to work together more efficiently is a manager's top priority. I'm also here tonight because I know that an Amon event is a fertile environment for cultivating new and interesting contacts."
IT in the spotlights
"This event is a wonderful way of putting IT in the spotlight. I'm also convinced it's necessary because like so many companies we are frantically looking for fresh IT talent", says Charlotte Wiels (HRM, AZ Sint-Lucas, Ghent).
David Van Steenkiste (Hive Lead West / Principal Consultant, AE) agrees wholeheartedly: "My colleagues and I also view This is IT as an opportunity to put our consulting firm on the map."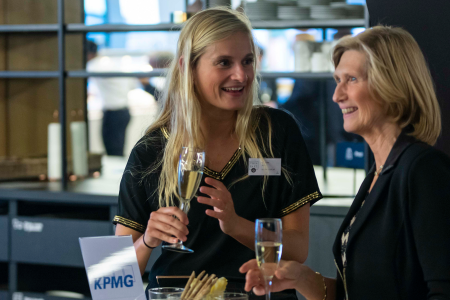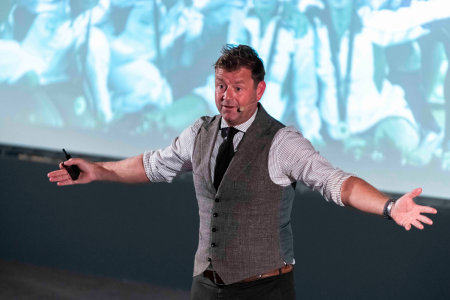 Lifelong learning
Even both keynote speakers picked up a thing or two. Behavioural scientist Dr Ben Tiggelaar: "A precondition for solid leadership that is rarely mentioned is enthusiasm, something that is very much present here today. That goes for the organisation, a speaker such as Marc Lammers and the audience as well. Enthusiasm is contagious and a key quality for any leader."
Former hockey coach Marc Lammers clearly enjoyed the inspiring event: "The fun part is that the participants can learn so much from each other, not just from the speakers. And from the top coach in the industry, of course. If I were them, I'd ask him if I could tag along for a day."
> Would you like to attend next year's event? Keep an eye on this website and our social media!
Facebook – LinkedIn
Pictures: FilmFolie
Would you rather we didn't use your pictures in our Amon communications? Feel free to let us know at  privacy@amon.be.